The federal Judge overseeing Donald Trump's 2020 election interference case in D.C. reimposed a narrow gag order following Trump's outburst on social media.
The gag was on pause
Judge Chutkan put the special order on pause while looking into the defense's appeal. But the prosecution argued that Trump's post regarding alleged witness Mark Meadows, Trump's former Chief of staff, led to Judge Chutkan reimposing the gag order.
The Judge's order
Judge Chutkan wrote, "This statement would almost certainly violate the Order under any reasonable definition of 'targeting.'" She added, "The First Amendment rights of participants in criminal proceedings must yield, when necessary, to the orderly administration of justice."
Judge's Chutkan's reasoning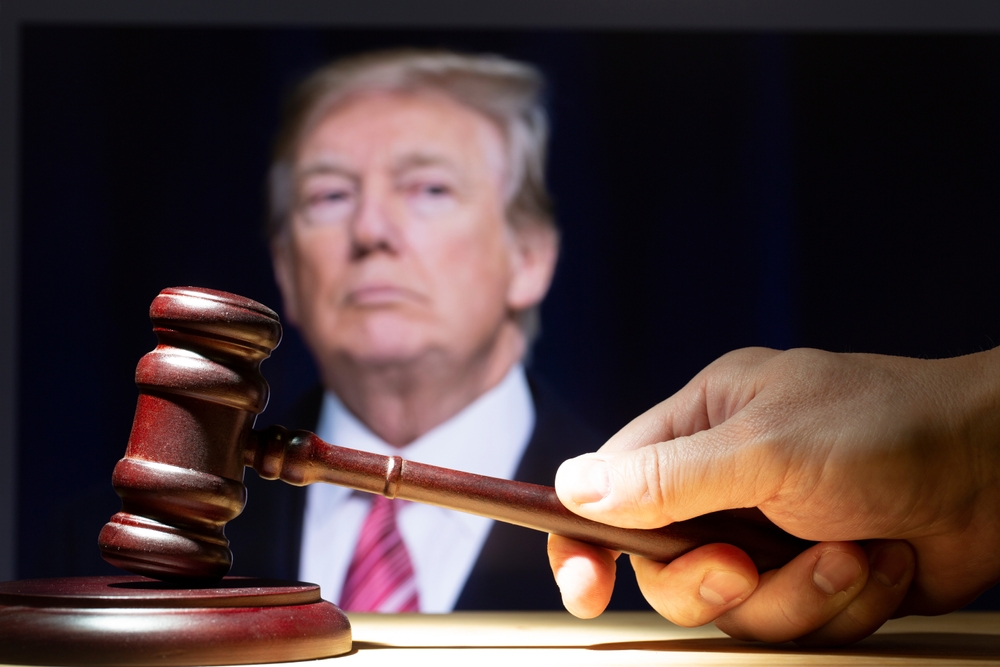 Judge Chutkan also wrote how such posts were "an attack that could readily be interpreted as an attempt to influence or prevent the witness's participation in this case."
The gag order was put in place over the fear of "intimidating or influencing witnesses"
The Judge imposed the first gag order on October 17, citing that Trump's comments about people involved in the case could "implicitly encourage violence against public servants." She added that the First Amendment does not "allow him to launch a pretrial smear campaign."
Trump can still attack DOJ or The White House
The gag order is focused on prohibiting Trump from targeting prosecutors, witnesses, or court staff. The Judge didn't impose a broad mandate, leaving Trump free to attack her, the Biden administration, the DOJ, and other institutions.
Chutkan wanted to be fair
In her latest ruling, the Judge wrote she tailored the order to "prohibit statements only where less restrictive measures would be inadequate." The Judge also noted how the former president showed he could post without directly targeting individuals until Mark Meadows allegedly made a deal with the special counsel.
Trump on his former Chief of staff
Writing on Truth Social, Trump stated, "I don't think Mark Meadows would lie about the Rigged and [Stolen] 2020 Presidential Election merely for getting IMMUNITY against Prosecution (PERSECUTION!) by Deranged Prosecutor, Jack Smith." He continued, "Some people would make that deal, but they are weaklings and cowards, and so bad for the future of our Failing Nation. I don't think that Mark Meadows is one of them, but who really knows?"
Trump also went after another potential witness
Speaking about former U.S. Attorney General Bill Barr, Trump shared, "I called Bill Barr Dumb, Weak, Slow Moving, Lethargic, Gutless, and Lazy, a RINO WHO COULDN'T DO THE JOB." Barr is likely to be a witness in the D.C. case.
Trump called Barr a "moron"
The former president continued, "He just didn't want to be Impeached, which the Radical Left Lunatics were preparing to do. I was tough on him in the White House, for good reason, so now this Moron says about me, to get even, 'his verbal skills are limited.' Well, that's one I haven't heard before. Tell that to the biggest political crowds in the history of politics by far. Bill Barr is a LOSER."
New York Judge fined Trump
Judge Engoron, overseeing the civil case in New York involving Trump and his oldest sons, fined the former president twice. The former president was slapped with a gag order, which Trump violated twice so far, first earning a $5,000 fine and then a succeeding $10,000 fine, along with the threat of prison time.
Trump's reaction regarding the gag order
Trump took to Truth Social to blast the reinstated gag order, "I have just learned that the very Biased, Trump Hating Judge in D.C., who should have RECUSED herself due to her blatant and open loathing of your favorite President, ME, has reimposed a GAG ORDER which will put me at a disadvantage against my prosecutorial and political opponents."
Trump ranted some more
The 45th president added, "The Corrupt Biden administration just took away my First Amendment Right To Free Speech. NOT CONSTITUTIONAL! MAKE AMERICA GREAT AGAIN…"
More From BuzzLoving
See a grandma refuse to return a baby to her son: "It's not kidnapping, I'm her grandma": Grandma Refuses To Return Her Grandchild
Bouncer Catches Evil Man Putting Drugs in Young Woman's Drink and Takes Matters into His Own Hands
A bouncer revealed how he caught a guy who was using illegal substances to make young women his prey: Bouncer Catches Evil Man Putting Drugs in Young Woman's Drink and Takes Matters into His Own Hands
12 Films Guaranteed to Freeze Your Blood: Are You Brave Enough?
Looking for movies that redefine the word horror? Sometimes, it's not just about the spooky movies you've heard of, sometimes it's the ones that delve deep into horror that have a greater impact. Sit back, try to relax, and dive into these 12 films that are absolutely bone-chilling. 12 Films Guaranteed to Freeze Your Blood: Are You Brave Enough?
25 Movies You May Only Watch Once Because They'll Destroy You
Some movies can leave such a profound impact on us that we can't bear watching them again. Ever. These films stay with us long after the credits roll, haunting our thoughts and leaving us emotionally shattered. Here, we've compiled a list of 25 movies deemed one-time experiences by viewers on an online forum who have been through the emotional wringer.
25 Movies You May Only Watch Once Because They'll Destroy You
20 Irresistible Traits That Define a TRUE Manly Man
Discover 20 must-have characteristics that distinguish a truly manly man and see how many of them you or your man possess: 20 Irresistible Traits That Define a True Manly Man